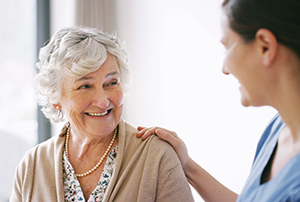 Eastern Health provides care for a wide range of gynecological health issues, from routine screening and contraception management to more complex concerns and conditions requiring surgery.
Gynecology is a medical specialty focusing on the diagnosis and treatment of health conditions affecting the internal (female) reproductive organs.
What we do
Gynecologic problems may include, but are not limited to:
Ovarian cysts
Uterine fibroids
Urinary incontinence
Pelvic floor disorders
Pelvic pain
Sexual dysfunction
Gynecologic cancers
A gynecologist is a specialist physician who assesses and treats gynecologic problems.
Services are provided on both an inpatient and outpatient basis, depending on the treatment required.
Who we see
Services are provided to individuals of all ages.
Our team
Our team is comprised of the following health-care professionals:
Gynecologists
Medical residents
Nurses
Patients may be referred to other health-care professionals, such as a physiotherapist or surgeon, depending on their health concerns.
How to access this service
Patients require a referral from their family doctor to see a gynecologist. Please see referral forms.
Appointments are made by the gynecologist's office once a referral has been received. Patients who have seen a gynecologist in the past, but it has been greater than one year, must go to their family doctor for a new referral.
Where we are
Health Sciences Centre
2nd Floor
300 Prince Philip Drive
St. John's, NL
A1B 3V6
Enter through the main entrance and proceed straight through the main corridor.  The Women's Health Clinic is located directly across from the coffee kiosk on your left.
Hours of operation
Monday to Friday, from 8:30 a.m. to 4:30 p.m.
How to reach us
Women's Health Clinic
Telephone: 709-777-7460