Child rehabilitation services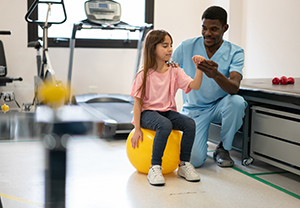 The Janeway Children's Health and Rehabilitation Centre offers child rehabilitation services. The Janeway Rehabilitation Team is a specialized team that assesses, treats and completes follow-up for individuals under the age of 18 with complex conditions that create a significant level of physical impairment.
Some individuals may require short-term rehabilitation, and will be discharged once their rehabilitation is complete. Other individuals may need to be followed long-term, up to the age of 18 years.
What we do
Nursing: Nursing staff has specialized knowledge and clinical skills to provide care for people with physical disabilities and chronic illness. The nursing unit of the Janeway Rehabilitation Team is often the first contact point for families, providing assistance with navigation throughout the system.
The nursing group consists of licensed practical nurses (LPNs) and registered nurses (RNs) who are responsible for coordinating, facilitating and arranging clinic appointments, completing detailed nursing assessments, providing holistic care and arranging follow-up.
The clinic nurses are an integral part of the multidisciplinary team who work with children and families to promote physical psychosocial and spiritual health.
Music therapy: Through the use of music-based interventions, our staff uses music therapy to support rehabilitation goals in motor, social, communication and expressive skills. Music therapy may be offered following your child's assessment.
Occupational therapy: Our occupational therapists aim to help solve problems that interfere with your child's ability to do everyday tasks or perform activities which are important to them. For example:
Self-care activities (e.g., getting dressed, eating or bathing)
Activities related to being productive (e.g., going to school or participating in the community)
Leisure activities (e.g., playing or other social activity)
Occupational therapy for children is available in St. John's and also through outreach services in Corner Brook, Grand Falls and Gander.
Physiotherapy: Our physiotherapy staff provides assessment and treatment services to assist children with significant physical need in the development and/or achievement of your child's rehabilitation goals, and to maximize your child's participation in all environments.
Social work: Social workers in children's rehabilitation services work specifically with patients who have been diagnosed with a physical disability. They support the psychosocial needs of children, youth and their families through the emotional journey of adjusting to the disability by providing supportive and adjustment counselling, resource counselling, crisis counselling and group work.
In addition, our social assistance worker can provide guidance in navigating needs such as financial (e.g., equipment funding and medical supplies), medical transportation and accommodations.
Speech-language pathology: Our staff provides assessment and treatment services related to communication, feeding, eating and swallowing. Our primary focus is to help your child to develop and maximize communication skills needed to participate in meaningful communication interactions and opportunities.
Technical resources: Our technical resource staff provides assistive technology assessment and therapy involving computer access, augmentative and alternative communication (AAC), or electronic aids to daily living (EADL).
Therapeutic Recreation: Our recreation or child life program promotes a healthy leisure lifestyle for children and youth by providing the opportunity to build leisure skills, gain knowledge and promote overall quality of life. Some services include adaptive equipment programs, individual assessments, group and one-on-one therapy.
Who we see
We provide care for children and youth with complex conditions that create a significant level of physical impairment up to their 18th  birthday.
Our team
Our team is comprised of the following health-care professionals:
Pediatricians
Music therapists
Nurses
Occupational therapists
Physiotherapists
Psychologists
Recreation development specialists
Social workers
Speech language pathologists
Technology resource consultants
Physiotherapist assistants
Occupational therapy assistants
How to access this service
Referrals to access children rehabilitation services can be made by physicians, allied healthcare professionals, or nurse practitioners to the Rehabilitation Clinic Office, telephone: 709-777-4853 or 709-777-4854. Please complete a Consultation Record Form (PDF).
A multidisciplinary first assessment team completes discipline-specific assessments to determine if the referred child meets eligibility criteria to rehabilitation services.
Where we are
Janeway Children's Health and Rehabilitation Centre
1st floor
300 Prince Philip Drive
St. John's, NL  A1B 3V6 
Occupational therapy for children is also available through outreach services in Corner Brook, Grand Falls and Gander.
Hours of operation
Monday to Friday, from 8:30 a.m. to 4:30 p.m.
How to reach us
Telephone: 709-777-4853 or 709-777-4854
Fax: 709-777-4677